Products in Action: Conveyors
Goal: 
Improve product flow and allow future growth
Customer: 
J. Polep Distribution Services
Location:
92,000-square-foot distribution center in Chicopee, MA
Our Conveyors 
Maybury Material Handling is a distributor for several nationally recognized conveyor manufacturers. As such, we can meet virtually any industrial conveyor requirement, from the most basic standard model to a very complex installation.
Maybury offers a full selection of:
Horizontal Models: including light-, medium- and heavy-duty belt conveyors; live roller accumulation conveyors; accumulation-type power conveyors; power curve conveyors; and spur conveyors.
Incline Models: including permanent floor-to-floor conveyors; portable folding conveyors; portable parts conveyors; and portable heavy-duty conveyors.
Gravity Models: including wheel conveyors and roller conveyors.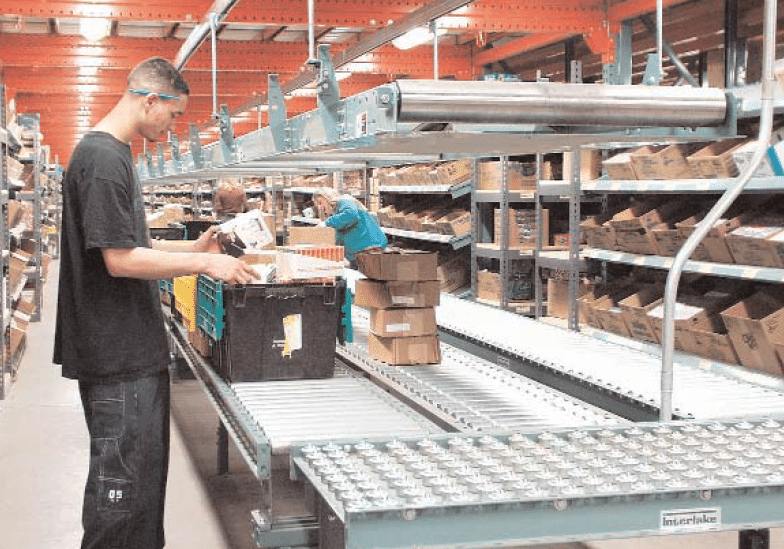 We can also supply all necessary system components and accessories such as controls, turntables, diverters, gates, pushers and sorters. And for customized industrial conveyor systems, Maybury's design, fabrication and installation services ensure maximum efficiency for each individual application.
Features of New System:
Two-level pick module utilizes rack, conveyors and carton and pallet flow units
Depending on product picked, it is either transported in totes, picked directly to a belt conveyor or conveyed to tax stamping machines
Computer-controlled sortation system at common induction point picks products from accumulation conveyors
Gravity conveyors transport product to trucks for shipping
Shipping and receiving are performed at two separate docks, instead of though one set of doors
Benefits:
Accommodates more than 10,000 different items and is capable of handling a nightly cycle of more than 100,000 picks
Scanning of product before loading provides automatic verification of correct product shipment to customers
Provides continuous product flow through the building
Allows loading of up to four trucks at a time
Will allow implementation of RF and other new technologies as company progresses
For More Information, please contact:
John Cosgrove
Atlantic Handling Systems
PO Box 358
Fair Lawn, NJ 07410
Fax: 201-445-6827
Email: jcosgrove@atlantichandling.com