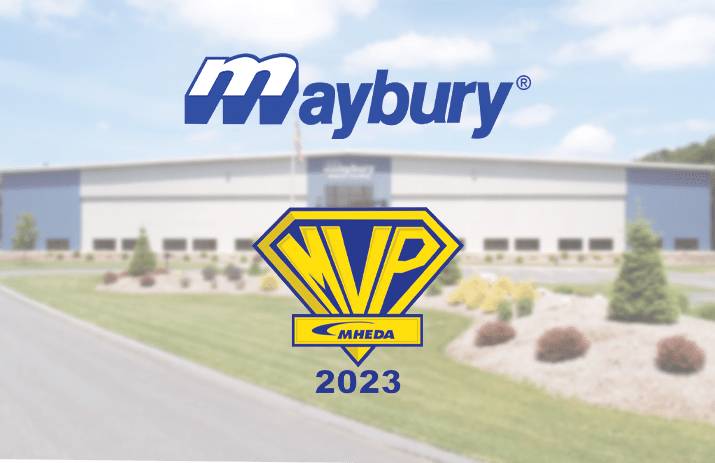 Maybury Earns
MHEDA's 2023 MVP Award 13th Year Consecutively
East Longmeadow, MA – Maybury Material Handling has been awarded the prestigious MVP (Most Valuable Partner) Award for its accomplishments in 2022. For the 13th consecutive year, Maybury Material Handling has earned the MVP Award from the industry's trade association, MHEDA (Material Handling Equipment Distributors Association).
Award recipients must satisfy a rigorous set of criteria with less than 10% of the association's membership earning the award. As a 2023 MVP, Maybury Material Handling has successfully demonstrated a commitment to business excellence, professionalism, good stewardship, and superior customer service experience to the end user.
To qualify for the annual MVP Award companies are required to provide evidence of their commitment to their partners in business including their customers, employees, and suppliers. They must satisfy criteria in the following important areas:
Industry Advocacy
Customer Service & Safety Practices
Business Networking
Continuing Education
Business Best Practices
"The MVP Award recognizes the best-of-the-best in our industry and is displayed with honor. To check all the boxes from education, industry best practices, awards, networking, employee engagement, giving back and much more, MHEDA is proud to have so many companies achieve this award. MHEDA appreciates the dedication to MHEDA and being a leader in this great industry that we are so blessed to be in." John L. Gelsimino President of All Lift Service Co. Inc. and 2023 MHEDA Chairman.
Since 1976, Maybury Material Handling has been designing, supplying, and servicing a wide variety of material handling equipment throughout New England. Maybury provides customers from a wide range of industries with solutions to move, lift, and store their parts and products.
Maybury Material Handling, one of the largest, most successful material handling companies in the Northeast, now has over 100 employees and is a distributor for approximately 1,300 manufacturers. We supply virtually all types of material handling equipment, including many ergonomic & productivity enhancing products. Customers range from large manufacturers to small, family-owned businesses. A diverse product line, knowledgeable personnel, and an emphasis on safety combine to make Maybury a recognizable leader in the material handling industry.
The Material Handling Equipment Distributors Association (MHEDA) is the premier trade association dedicated to serving all segments of the material handling business community. MHEDA represents close 600 companies in the material handling equipment business. Located in suburban Chicago, the association provides services to companies seeking to improve their business through education, networking, benchmarking and best practices. For more information, visit www.mheda.org.
Are you interested in proven outstanding material handling service?
Reach out to work with us today!