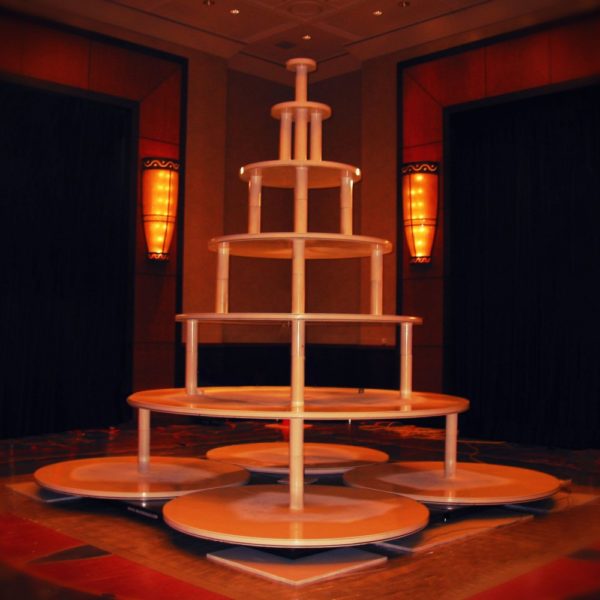 Maybury Material Handling helps Mohegan Sun Casino have their cake and eat it too!
Maybury Material Handling builds cake platform for Mohegan Sun to unveil the largest wedding cake in history at the New England Bridal Show on February 8, 2004
Maybury Material Handling, a Material Handling and Powered Equipment Business located in East Longmeadow, MA, is hoping to make it into the record books. Not for the largest mezzanine or tallest fork lift in the northeast, but for a far sweeter venture. On February 8th, Mohegan Sun Casino will be hosting the New England Bridal Showcase in their Uncas Ballroom. During this bridal show, Mohegan will be unveiling what we all hope to be is the largest wedding cake in history. Maybury Material Handling's Account Representative Chris Nagle of Westfield, and Maybury staff, worked together with Chef Lynn Mansel of Mohegan Sun in order to attempt this confectionary treat.
On February 1st Chef Lynn Mansel will begin creating the approximately 15'-6" high wedding cake. The ingredients include: 10,000 pounds of Rich Pound Cake Batter and 4,810 pounds of rich creamy frosting. The wedding cake will feed approximately 54,000 people.
Engage an expert in material handling system design
Jay Mercadante, Maybury's Systems Engineer and Ray Loomis, a certified structural engineer from Windsor, CT, created the huge platforms (or cake separators) that the wedding cake will rest on. The steel structure was built in Maybury's fabrication shop by fabrication specialists Don Hulse of Palmer and Joe Zielinski of Springfield. The structure weighs approximately 9,750 lbs. Rectangular tubing rolled into various diameters and sandwiched between steel plates make up the steel cake separators. Round steel pipes were used for the support columns of the cake. All of the separator plates and support columns were painted in Maybury's state-of-the-art paint booth with 10 gallons of white paint.
On January 31st the structure was transported by Maybury's forty-five foot flat bed truck down to Mohegan Sun for the first stage of wedding cake creation. Allan Sonoda, Maybury's Material Handling Manager, Jay Mercadante and Chris Nagle began the steel support construction of the wedding cake, which included putting the large 12 foot by 12 foot, 30,000 lb. capacity scales into place in order to give Mohegan Sun the exact weight of the wedding cake. The bottom steel cake separator plates were also put into place, making it possible for Chef Lynn Mansel to start creating the wedding cake. Each level of the cake will be built separately and two 5,000 lb. fork lifts will place each level on the supporting columns for a total of 7 levels.