OSHA's New Silica Standards
OSHA continually works to ensure the health of U.S. workers and our environment — and at PowerBoss, we strive to help you stay compliant with industry standards. Workers who are exposed to respirable crystalline silica dust are at increased risk of developing serious silica-related diseases. Therefore, OSHA has reduced the permissible exposure limit of respirable crystalline silica dust, requiring employers to use engineering and housekeeping controls to limit workers' exposure when feasible.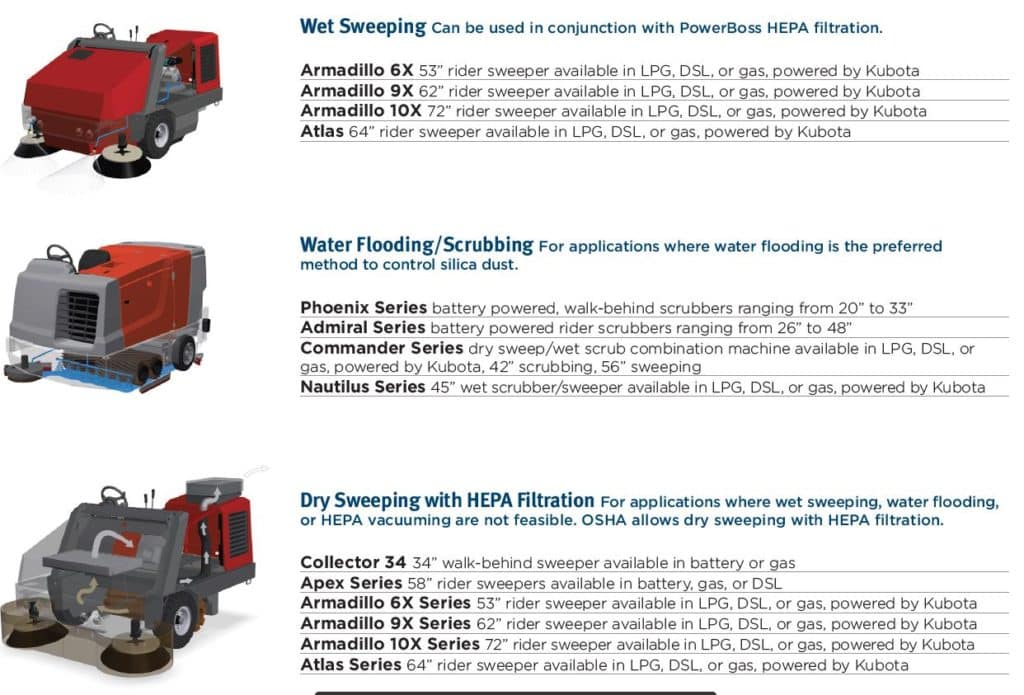 SCENARIO ONE: Purchasing New Equipment
You're in the market for a new sweeper/scrubber, and you know it has to comply with OSHA's new silica dust ruling. PowerBoss offers three types of OSHA-compliant dust control models engineered to provide safe and effective cleaning for your business.
Our Wet Sweepers, Water Flooding/Scrubbers and Dry Sweepers with HEPA Filtration meet or exceed OSHA's standards for filtration of carcinogenic dusts, allowing you to stay compliant with current regulations.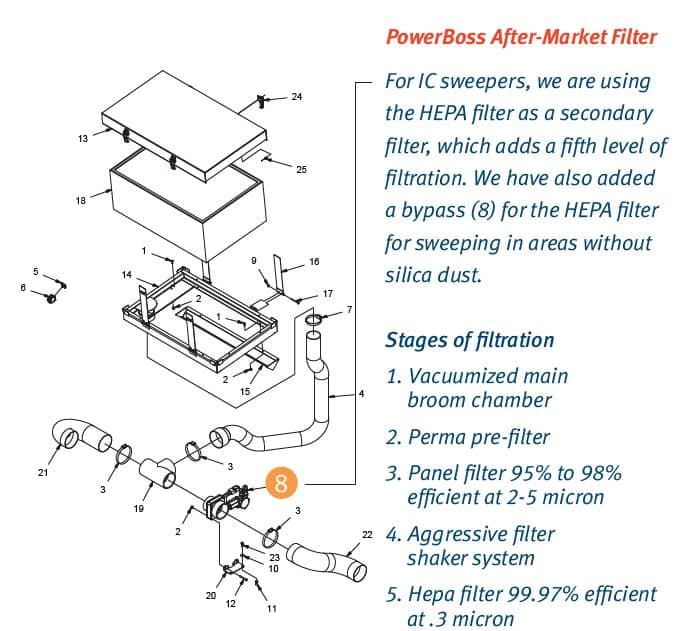 SCENARIO TWO: Adapting Your Existing Equipment
You just found out that the sweeper you purchased a few years ago will be obsolete on June 23, 2018, because it doesn't meet the new OSHA silica dust rules. PowerBoss Has a Cost-Effective Solution We've engineered a filter that will fit many existing PowerBoss sweepers — a filter that controls extremely fine dust and can be easily disposed of, keeping your environment safe and healthy. These filters have a 99.97 @ point .3 micron HEPA filtration of carcinogenic dust efficiency.
Our after-market filter is OSHA approved and easily retrofits any of our six models purchased after 2015. It fits securely  onto the back of our sweepers, and dust is filtered through our HEPA-certified filter. Once the filter is full, dust must be disposed of using the control methods recommended by OSHA.
Maybury has always prioritized the health of our clients and our environment. We continually work with our engineers to improve our products to eliminate dangerous dust exposure, as well as manufacture ergonomic cleaning equipment. By June 23, 2018, all operations in the general industry, maritime and construction sectors are required to comply with OSHA's new silica dust standards. Employees are limited to an exposure of 50 micrograms of respirable crystalline in an eight-hour work period.
Industries Affected by the New Silica Rule
Approximately 2.3 million people in the U.S. are exposed
to silica at work, including those in the following industries:
• Construction
• Glass manufacturing
• Pottery products
• Structural clay products
• Concrete products
• Foundries
• Dental laboratories
• Paintings and coatings
• Jewelry production
• Refractory products
• Ready-mix concrete
• Cut stone and stone products
• Abrasive blasting in maritime,
construction, and general industry
• Refractory furnace installation and repair
• Railroad transportation
• Oil and gas operations
Penalties for Noncompliance
There are costly penalties for not complying with this new ruling. It could be less expensive to your business to comply than to face these financial penalties.